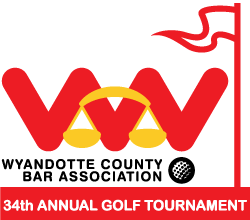 The 34th Annual Wyandotte County Bar Association Golf Tournament is rapidly approaching and closer than you might think. This year's tournament is set for Thursday, June 26, 2014 at Dub's Dread Golf Club.
We will be delivering official entry forms in a few weeks with further information, but now is the time to make sure your calendar is clear, dust off the clubs, and get those swings loosened up!
We are again asking for everyone's help and effort in continuing to build on the success of our annual tournament. Please tell your colleagues and tell your friends. The more the merrier for this wonderful social opportunity to spend a day outside, relaxing, eating, drinking, laughing and having a great time with your fellow bar members and friends.
Zachary A. Kolich
THE LAW OFFICES OF MICHAEL R. WALLACE, L.L.C.
4400 Shawnee Mission Parkway, Suite 100
Shawnee Mission, Kansas 66205
Phone: (913) 362-5400
Fax: (913) 362-4244
This email address is being protected from spambots. You need JavaScript enabled to view it.