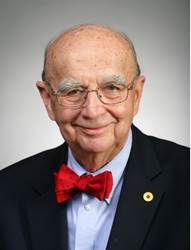 MVP Law expresses its deepest condolences upon the passing of John J. Jurcyk, Jr. His loss will be deeply felt within the firm, as well as among the community and his professional colleagues.

John was a consummate lawyer. "John was a lawyer's lawyer. Professional and respectful he would advocate to his greatest ability for a client without personal animosity to opposing counsel…He is an aspiration." Byron Bowles, MVP's President,

After graduating from Rockhurst University in 1952, he served in the 13th combat Engineer Battalion in the US Army in Korea. He then attended the University of Kansas Law School where he served as Editor-in Chief of the Kansas Law Review. After a Federal Court Clerkship, John joined McAnany, Van Cleave & Phillips in 1958. He served as firm president from 1980 to 1984.

When John joined MVP in 1958, the firm consisted of five lawyers. John tried commercial, employment, negligence, railroad and product liability cases. John served as President in 1980, and the firm had grown to 23 attorneys. John practiced law at MVP until 2004, when he left to serve as Senior Policy Advisor for Mayor Joe Reardon, before returning to the firm in 2013, where he remained until his death.